BIO
Jonathan Cousins is a NYC-based designer, programmer and entrepreneur specializing in the creation of data visualizations, large-screen computational art, and software applications (mobile or otherwise) involving complex information design. His efforts on projects have been presented at various conferences and festivals such as ETech, Where2.0, SIGGRAPH Asia, REDCAT, Coachella and the Lightwave Festival in Dublin. He has consulted with, conducted workshops for or presented his work to a wide variety of organizations such as Hearst Corporation, the U.S. Department of State, MIT's Hyperstudio Conference on Digital Humanities, The Daily and others. He is adjunct faculty at NYU's Interactive Telecommunicaitons Program where he teaches information visualization. read more
NEWS AND CURRENT WORK
ABACUS (data viz for performance)
Work completed as a visiting artist at Rensselaer Polytechnic Institute's EMPAC with Lars Jan and Early Morning Opera.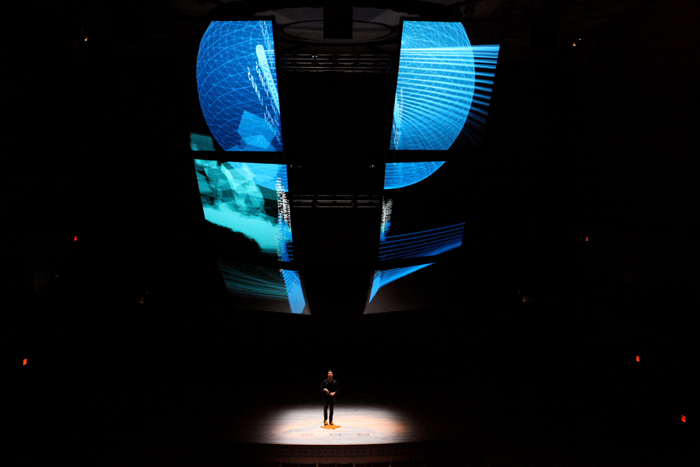 Just completed another stint as a visiting artist at Rensselaer Polytechnic Institute's EMPAC with the LA-based Early Morning Opera, made up of director, Lars Jan, Nick Sears, Sonny Valicente, Chris Kuhl and Cal Arts faculty, Pablo Molina (video designer/developer) and Nathan Ruyle (sound design). The results had a test run for an audience at the C:ADM2010 Conference and the work premieres at EMPAC's Filament Festival in early Oct.
View additional material from the ABACUS development process. Video of the screen age.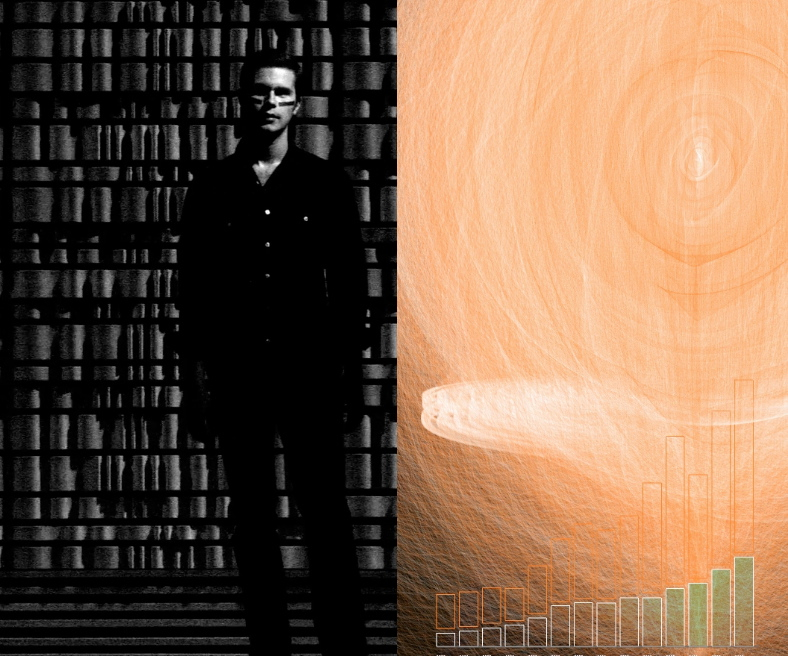 Earthquake Visualization for Popular Mechanics' Inaugural iPad Issue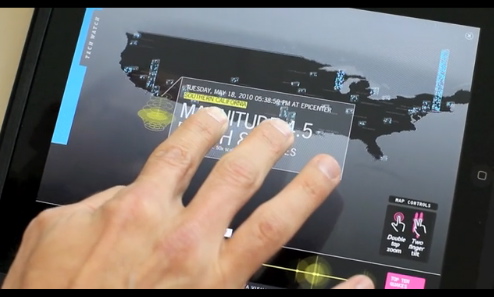 Shortly after I made a presentation to the creative and editorial staff at Popular Mechanics about possible IxD and UX schemes/considerations for iPad app design and development, Deputy Editor, Jerry Beilinson and Senior Tech Editor, Glenn Derene commissioned a data viz about earthquakes. Nick Sears and I worked on this together. The app grabs data about the most recent seismic activity from USGS feeds via wifi or 3G. That quake data is rendered according to magnitude and depth. Users can also view the largest earthquakes from the last 150 years. Also visualized are population and population density values for the 25 largest cities of the lower 48 states. Gizmodo positively reviewed a sneak peak. There is also a piece with better video on AOL's Daily Finance
Visualization for the World Economic Forum, Dubai
Created for Phyllotaxis Lab at SEED Media Group

A collaboration with Nick Sears that was commissioned by Adam Bly and Ben Fry of SEED Media for the Forum's summit in Dubai in November. We created the piece in a little over a week.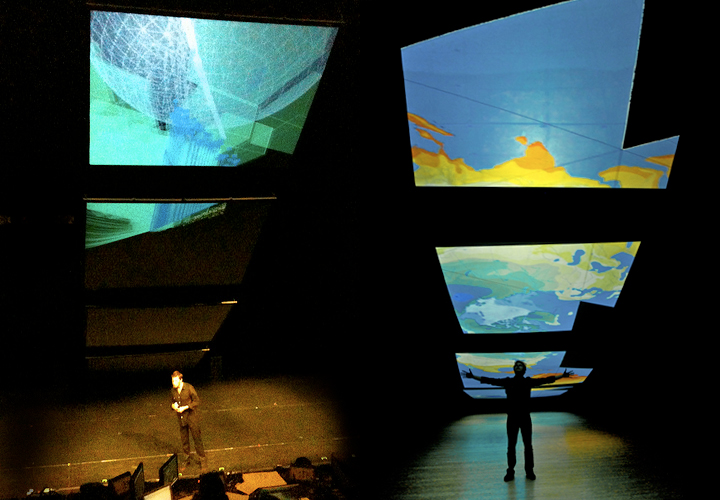 The ABACUS piece was created during a brief residency at Rensselaer Polytechnic Institute (RPI) with additional support from the Center for New Performance at Cal Arts. After a performance at RPI's new EMPAC facility, ABACUS was presented at the REDCAT Festival in L.A. My work on the project consists of data visualizations and data animations ranging from the traditional to the abstract. It was, and continues to be, an excellent opportunity to experiment with new visualization and computational social science techniques and ideas.
Collaboration with author, journalist and NYT Editor, Scott Malcomson
Am currently collaborating with Scott Malcomson on a method for advancing the state of the art of how primary source information is exchanged. How this is currently done and how it could or should be done in the future is an area of great interest and debate for many. It's a complex problem, indeed, but we've put together interesting concepts and prototyped some of them, so far so good. More soon.
TRIPLEDEX: OPEN SOURCE SOFTWARE INITIATIVE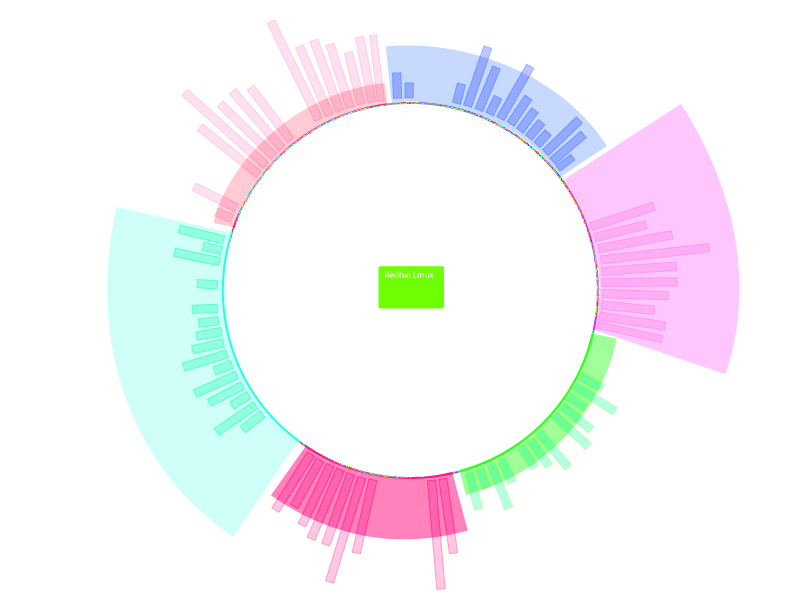 Tripledex is working on a Department of Homeland Security-sponsored site to help government technologists learn about how open source software is used in the public sector. My role in the project is as lead UI and data visualization designer/programmer. It's another fantastic opportunity to work with the Tripledex team (Patrick Dwyer and Nick Sears) headed by JC Herz.

Trust Art is a social platform that is commissioning ten public artworks over the next year. Users are invited to become shareholders with $1, plus there are a variety of mechanisms to accept non-monetary resources as well. My work on the project is a simple, fun visualization of the shareholders. The founders of this project (Jose Serrano-Reyes and Seth Aylmer) are also the founders of Fame Game.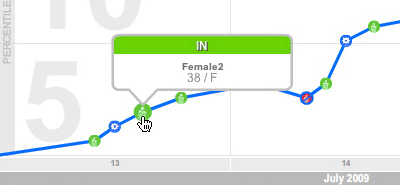 Edopter is an online service that tracks the spread of new trends around the world in real time. The goal is to combine user insights and worldwide buzz to "tap into the next big thing." The project is headed and co-founded by Matthew Rosenberg and Andy ThompSon of One Blue Brick. They commissioned me to create a fun, but informative, analytical space to allow users of the edopter service to track in depth the progress of trends.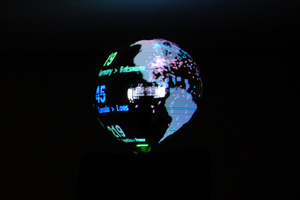 Earlier this year, Nick Sears asked me to develop some content for his completely amazing Orb project. Orbs are part of a series of collaborations between Nick and his father, Ron Sears, under the name Art Magnitude. They are spherical displays built entirely from scratch. Nick's talk from the TED conference about an earlier version of the Orb gives you a good idea of how they're made and where they're going with the project.
The software I've developed is a visualization about global immigration. It's a variation on work I've been doing since 2007.

The Orb was most recently on display at the SIGGRAPH Asia Conference in Singapore. Photos (5):
SIGGRAPH Asia Installation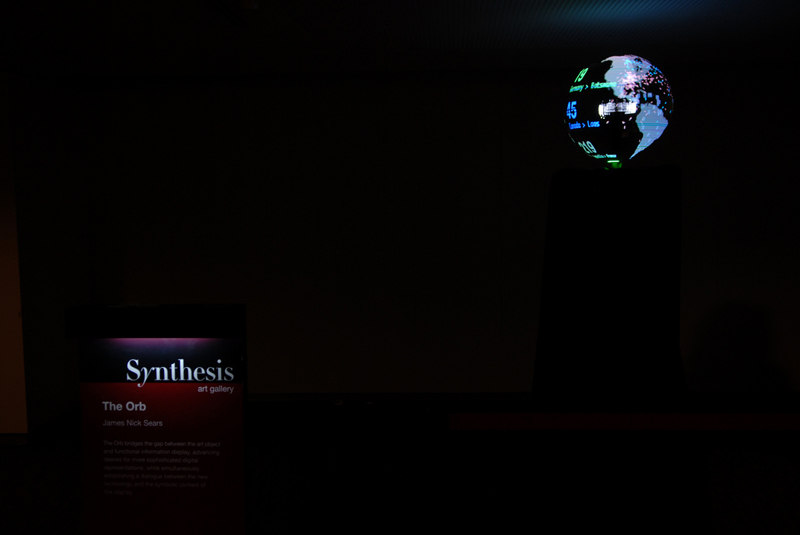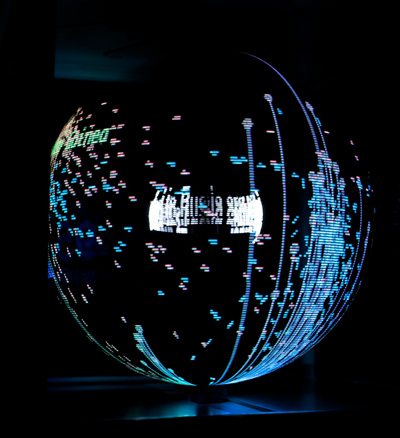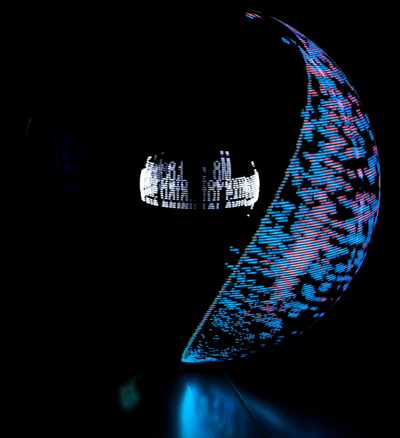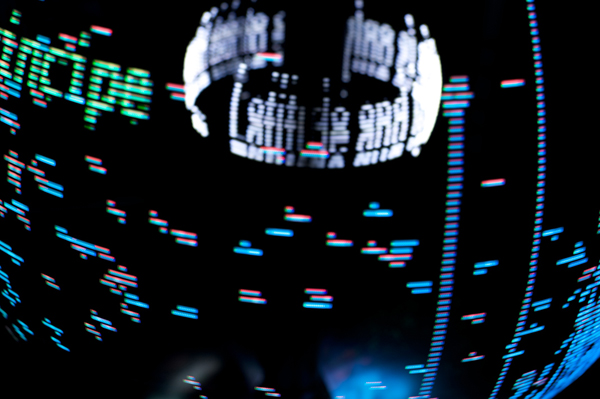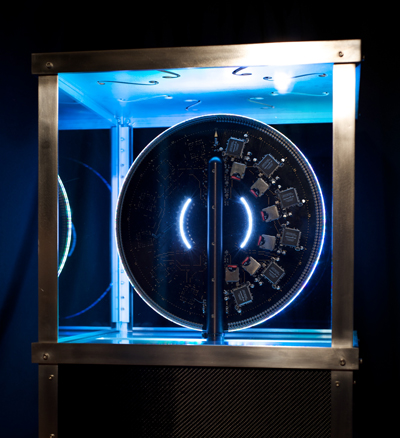 Links: